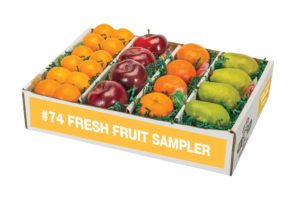 If you're looking to raise the most amount of money possible during your next fundraiser, there is no better choice than a fruit sale with Pee Jay's Fresh Fruit. We offer the largest selection of fruit compared to our competition.
Here are some of the many benefits that separates Pee Jay's from the other fruit fundraising companies:
#1 In Fruit Variety: There's more to a successful fruit sale than just selling oranges and grapefruit! No one can match Pee Jay's large selection of fresh fruit options. We offer the finest citrus varieties, Anjou Pears, Red Delicious Apples, Sweet Golden Pineapples, Mix Boxes and much more. Can't decide on just one? Get more variety with our popular Sampler Boxes, and our 10-lb. boxes. They make great gifts for employees or clients plus our smaller pack sizes make them an ideal solution for families or individuals.
100% Satisfaction Guarantee: Since 1982 we've helped thousands of organizations like yours run high-profit fruit sale fundraisers. You can feel safe knowing that we stand behind our products with our 100% satisfaction guarantee! Fruit is perishable and can be damaged in shipping, so if for some reason you're not happy with your product, give us a call at 800-847-6141 or email us at CustomerCare@PeeJays.org and we will work with you to make it right. Our friendly, professional staff is here to help you every step of the way.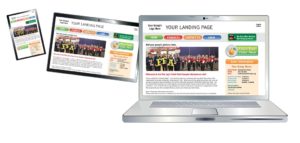 Online Ordering: Expand your sales and customer base by supplementing your brochure sales with our FreshFruitOrder.org eCommerce program. You will have access to your own customizable eCommerce website that allows your customers to easily purchase fruit with a credit card. Less money for you to collect and you can boost your profits! Our state-of-the-art Online Order Tracking Spreadsheet allows our customers to track eCommerce Orders, enter Cash/Check Orders, place an Add On Order and submit their Total Order all in one invaluable tool! Now Available: You can now download your online spreadsheet into an Excel .csv file!
Choose Your Delivery Week: Unlike many of the other fruit fundraising companies, at Pee Jay's we allow you to choose the week of your fruit delivery! We do ask for two alternate delivery dates as well in case of weather issues or any other unforeseen occurrence that would prevent us from delivering to you on your primary delivery date. We will make every effort to accommodate the date and time that you prefer, but your delivery date is ultimately determined by the number of boxes ordered and when there are other deliveries in your area.
Where most other companies confirm your delivery 1-2 days in advance, Pee Jay's will confirm your delivery date with you one week prior to your delivery, giving you ample time to gather help for delivery day!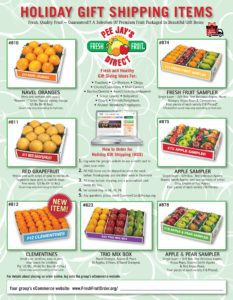 Holiday Gift Shipping with Pee Jay's Direct: Make the entire country your selling area with our "Pee Jay's Direct" gift shipping program. Ideal for your customers who want to give something special to their friends, relatives, business associates or employees. Also great for friends and family that live out of town, but still want to support your cause. In addition to advertising your sale on your group's website, a few phone calls, emails or Facebook posts could equal thousands in additional profit!
Delivery Tracking and Order Accuracy: Delivery day is busy enough without having to wonder what the status is of your truck. Pee Jay's will track your delivery and give you updates throughout the day. In addition to flexibility with your Delivery Date, we also boast a 99% Order Accuracy Rate!
(Order Accuracy Rate based off of 2021 delivery totals)
Add On Orders: It happens all the time: You call in your fruit order and inevitably one or two members will find some orders that they forgot to turn in on time, or a customer will call in with a last-minute request. With most companies you would have to give that customer their money back, but with Pee Jay's we allow you to place an additional "Add On Order" a week before your scheduled delivery. It's just another way we try to help you earn as much money as possible using our program.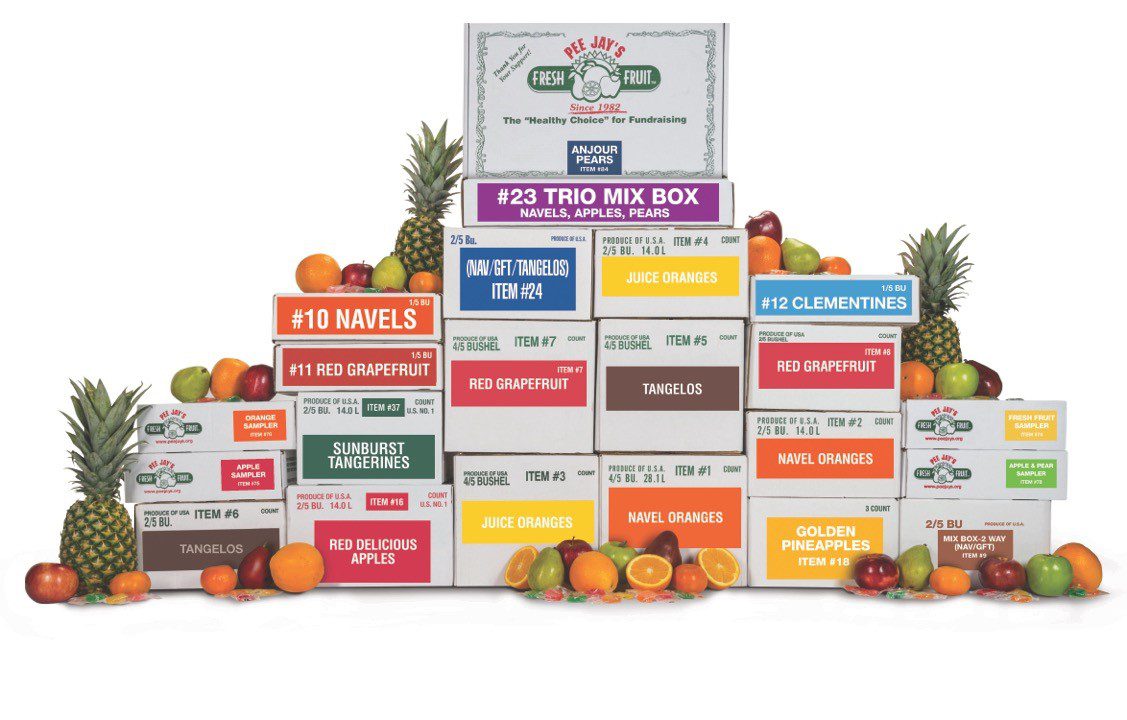 Color Coded Boxes: Now that your fruit has been delivered, how do you sort it all out? No worries! Our color coded boxes make sorting and distributing your fruit a breeze.
Free Fundraising Materials: Pee Jay's provides your group with (free of charge): Four-color brochures, collection envelopes and three-part receipt forms. Plus, small and large advertising posters and Ad Slicks to advertise in your local newspaper. In addition, Pee Jay's will reimburse your group 25% for newspaper and/or lawn sign advertising! We can also provide your group with customized flyers if your group does not offer our entire catalog of items. Please call for more details.
Discounts & Ways to Earn More Money: Pee Jay's offers a variety of incentives to help your group earn more for your sale:
• Referrals – Do you know another group that may be interested in holding a fruit sale with Pee Jay's? For every referral you give us that ends up using our program we will send you a $100 "finder's fee."
• Returning Customer Incentive Program – "Sell More, Earn More".  If you are a returning customer, the more you sell, the more you earn!  Call for details.
• 1% Early Payment Discount – We offer our customers a 1% discount on their invoice if their payment is postmarked PRIOR to their confirmed delivery date.  *If you are a new, non-school customer, you may be asked to send us your payment prior to your delivery.  Please call Pee Jay's for more details.
• Trailer Load Bonus – Receive an extra $250 for selling 2200 2/5 units.
1% Extra Added To Your Order: Fruit is a perishable item and can be damaged in shipping. Pee Jay's ships your group 1% extra to cover any damaged product.
The Healthy Choice For Fundraising: With many schools now implementing "Wellness Policies," what better way to earn a healthy profit than with a healthy product?! We offer only the freshest citrus harvested at the peak of its flavor and much, much more!
Give us a call at 800-847-6141 and get started with your fundraiser today! Raising money has never tasted so good!