Best Places for Fall Apple Picking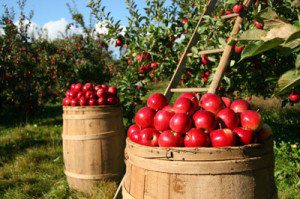 Last Monday marked the first day of fall, and with it comes some of the many wonderful Fall traditions:  hay rides, football games and pumpkin carving to name a few.  But when the air turns crisp and the leaves transition over to a splendor of vibrant hues, there's nothing like going apple picking on a Fall afternoon.
Back in 2009, Travel & Leisure Magazine composed a list of America's top apple picking orchards:
http://www.travelandleisure.com/articles/americas-best-apple-picking-farms
If none of those are in your area, you can look up local farms to pick not only apples, but a variety of fruit and vegetables by checking out PickYourOwn.org
If you're looking for something fun to do with all of the apples you've picked, you can try making your own apple cider!
http://recipes.howstuffworks.com/menus/how-to-make-apple-cider.htm
Enjoy!!